Cape Cod & Islands
Community Breakfasts, Luncheons & Suppers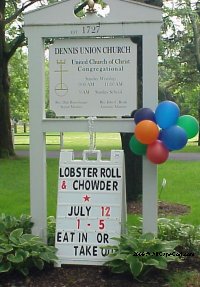 Looking for a low cost alternative for a good meal out? Cape Cod churches and other organizations offer many options: pancake breakfasts, lobster roll luncheons, ham & bean, spaghetti, and chowder suppers are among the most popular. Some are available during the summer months only, but others are offered year round. Most are casual and kid friendly. Most are eat in or take out. All are open to the public!
We most recently visited the Federated Church in Hyannis for the Lobster Roll Luncheon. Great food at a great value – the lobster roll offering includes chips, iced tea, lemonade or cold bottled water, a homemade dessert and an amaziningly fresh, generously sized lobster roll – all for $13.00. Plenty of seating made it easy to eat in and enjoy a community experience, including live piano music, but the entire meal can be ordered ahead and bagged for take-out. Two Claws Up for the Federated Church!
We have also visited Dennis Union Church for their Lobster Roll Luncheon. Also, a great value – chowder, coleslaw, chips, watermelon, iced tea or lemonade and of course the lobster roll – all for $15.00. Also eat in or take-out. Two Thumbs Up for the Dennis Union Church!
Check out these options -